This post was written by Jessica Weiss and published on the University of Maryland website. It is reposted here with permission.
Through her teaching, research and beyond, Jordana Moore Saggese is working to undo the 'colonialist and white supremacist logic' that has pervaded the field of art history.
When Jordana Moore Saggese was growing up in Nashville, Tennessee, there was no art museum in town. So, until high school, Saggese, associate professor and associate chair of Maryland's Department of Art History & Archaeology, connected art with the paintings she saw during a visit to former president Andrew Jackson's home, The Hermitage.
"Literally going to a plantation and seeing white people on the walls," she said. "That was my experience of art."
Now a researcher of modern and contemporary American art, Saggese is working to broaden the field of art history to give a more prominent voice to the contributions of non-white artists. She is a scholar of the American artist Jean-Michel Basquiat (1960-88), who was of Haitian and Puerto Rican descent, and teaches students to recognize and challenge "otherness" in art and visual culture. In her role as editor-in-chief of Art Journal, a publication of the College Art Association of America, she seeks to make space for greater diversity in the field of art history. She is the first Black woman in the journal's 80-year history to serve in that role.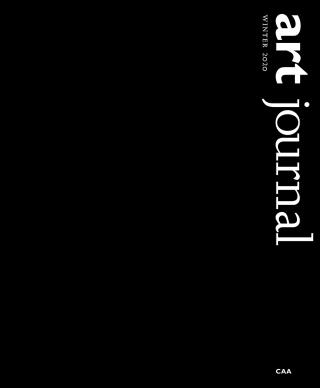 Last month, Saggese oversaw the first-ever issue of Art Journal to focus explicitly and exclusively on "Blackness." In 134 pages of scholarly essays, book reviews and exhibition reviews, the issue counters the discipline's dominant narratives of whiteness and white supremacy through an "intentional conversation around the experiences, expressions and theorizations of Blackness."
"I know it is a pretty bold move to call out the discipline and play a part in unmaking its history," she said. "But this was my moment of saying 'You know what? I'm actually going to take a stand here.'"
Saggese first caught a glimpse of the contemporary art she would go on to study in 1997, when she and a friend decided to leave their senior prom early to rent a movie from Blockbuster. On a whim, they chose Julian Schnabel's "Basquiat," a biographical drama about the late artist, known for his colorful, graffiti-like images.
"Basquiat's art challenged everything I thought art could be," she said. "It was messy, it was expressive, it was conceptual, it had language on it, it had layers upon layers, it was opaque, it was dense, it was difficult. And I kept that experience in the back of my mind as I entered university."
Saggese attended Vanderbilt University as a first-generation college student and found herself enraptured by her art history electives and the range of artworks she was suddenly exposed to, from Chinese art to Mexican muralism. After one particular lecture on Dada, an early 20th century movement of European avant-garde art, she realized art was "not something meant only for the elite, but that it could also be a form of rebellion." She declared a major in art history her senior year and, at the last moment, applied for graduate school.
That final year, while fulfilling her lower-level art history major requirements, Saggese had what she calls a "rude awakening."
Whereas her previous art history courses opened her eyes to diverse works and perspectives, the instructor of her art history survey lecture—intended to be a comprehensive, global overview of the history of art—projected a succession of images of a "mostly white, male, heterosexist art history."
"I immediately began to question it," she said. "I thought to myself 'why are we talking just about Western Europe? What happened to the other works I had learned about?'"
That experience set her on a path to question the "colonialist logic" she began to see in much of modern art history and to explore what she could do to change it. As she entered graduate school, she knew that she would be devoted to taking seriously the artists that few people were talking about.
Saggese went on to get her Ph.D. in modern and contemporary art history at the University of Illinois at Urbana-Champaign and has now published on Basquiat in academic outlets and catalogues for exhibitions in New York, London, Germany, Montreal and Paris. Her first book, "Reading Basquiat: Exploring Ambivalence in American Art," published in 2014, is a monograph—the ultimate critical recognition in the history of art—that reconsiders the artist's place in the history of modern American art. (The book was recently rereleased in paperback.) She also wrote the script for a TED-ED talk on Basquiat.
Next month, she will publish "The Jean-Michel Basquiat Reader: Writings, Interviews and Critical Responses," a comprehensive sourcebook of the artist that aims to provide a full picture of his views, his working process and the critical significance of his work.
In an advance review, Sarah Elizabeth Lewis, associate professor, history of art and architecture and African and African American studies at Harvard University, called the publication an "extraordinary, riveting scholarly reader … [and] a significant contribution to the fields of contemporary art, American art, and the discipline of art history at large."
Saggese is also working on a book called "Game On: Boxing, Race, and Masculinity," which looks at visual representations of Black male heavyweight boxers from the late 19th century, a project for which she was recently awarded a University of Maryland Independent Scholarship, Research, and Creativity Award (ISRCA).
She arrived at the University of Maryland (UMD) in 2018, drawn to the university largely thanks to David C. Driskell, the legendary artist and Distinguished University Professor recognized worldwide for his scholarship and expertise in African American art. At UMD, her teaching is informed by her interests in the history of photography, print culture, abstraction, conceptual art, performance art, post-colonial theory and disability studies. She offers undergraduate courses in American art, African American art and critical race art history.
"I truly rely on the fact that every student is an expert of their own experience—if you're coming into my classroom you will never feel out of place," she said. "I ask students to question the hierarchy of what's art and what's not art, as well as the hierarchy of western versus non-western art, to think critically about the images they consume."
She became editor-in-chief of Art Journal in 2018 with the explicit goal to foreground writers and artists of color and increase representation of non-European, non-western art in the journal's pages. Shortly after, submissions to the journal in the areas of African American and Black art increased by 500%. That led Saggese to the idea of an issue devoted entirely to Blackness.
As editor-in-chief, she is responsible for the entire editorial process, from soliciting submissions to final layout.
The Blackness issue features artist projects by two Black women and book and exhibition reviews that center entirely on works by and about Black artists. The feature essays focus on artists who explore the "histories, sensations and consequences of Blackness in their work." Saggese is also featured in a video that accompanies an introductory essay. The entire issue is free to read through March 31.
Karin Zitzewitz, the current chair of the Art Journal editorial board and interim chair of the Department of Art, Art History and Design at Michigan State University, said Saggese has shown grace and flexibility during an extremely challenging time to "set the right tone" for the journal.
"The Blackness issue is a fantastic project," Zitzewitz said. "It brings attention to the rigor and energy in the field of African American art history, which is built upon decades of work by Black artists—right up to the present—as well as exciting methodological and theoretical debates. Jordana has built upon her own position in the field and her network of friends and allies, in order to draw our focus to the lively community around Black art."
It's especially poignant at a moment when the country is reckoning with its foundational history of racism and as COVID-19 has devastated many Black communities, Saggese said. Holding the final product—boldly published with a black matte cover—was a kind of "out of body experience."
"I feel in so many ways that this issue is a culmination of everything I've ever wanted to do in the discipline," she said.