adapted from Wide Open Town: A History of Queer San Francisco to 1965 by Nan Alamilla Boyd
---
Each year at the end of June, San Francisco fills with gay, lesbian, bisexual, and transgender (GLBT) tourists. The Castro Theater in San Francisco's gay neighborhood screens a week-long lesbian-gay-themed film festival, the city flies multicolored gay pride flags from poles stretching the length of Market Street, and crowds of up to half a million gather for the annual Gay and Lesbian Pride Parade on the last Sunday in June.
June is a lucrative month for gay-owned businesses. Gay bars, restaurants, and hotels fill to capacity, and stores catering to gay tourists do a brisk trade in pride rings, necklaces, and T-shirts. While gay tourism is good for gay businesses, the revenue generated from gay tourism reaches beyond the GLBT community. Of the 4.2 million hotel guests who made San Francisco a destination in 1999, 4.6 percent dined in the Castro district at least once, bringing almost $10 million in revenue to the city in restaurant business alone.
As was the case in the postwar years, the ability of the GLBT community to draw tourist dollars to the city affects its strength in relation to city politics. In the 1940s and 1950s, San Francisco's tourist economy gave gay bars a foothold in San Francisco's North Beach district. Currently, as gay tourism draws millions of dollars to San Francisco each year, gay, lesbian, and transgender community representatives from San Francisco serve both elected and appointed positions within municipal, state, and federal government offices.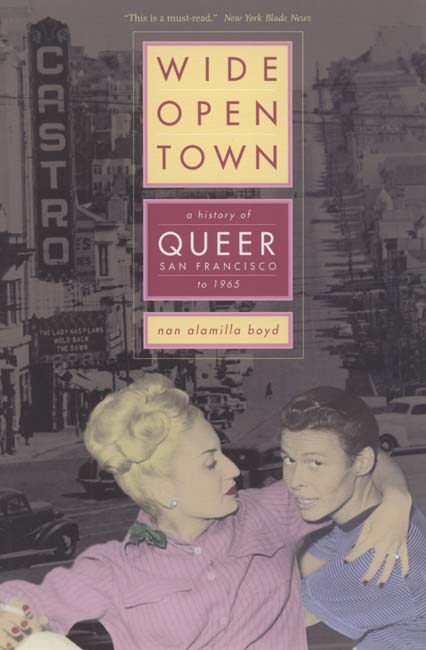 Today, large corporations with familiar brand names are eager to capitalize on gay dollars and gay spending power. While this phenomenon— niche marketing to gay and lesbian shoppers—promises to open up new modes of visibility (and presumed social acceptance), the large-scale and corporate commercialization of queer culture threatens to transfer the control of representations of gay, lesbian, bisexual, and transgender people from the hands of activists and community members to large corporations.
Along with homophile movement activism, the culture of gay, lesbian, and transgender bars and nightclubs contributed significantly to the form and function of a resistant queer social movement. In fact, in its prideful assertion of difference, bar culture transmitted the progressive idea of minority rights (or rights based in the Fourteenth Amendment's equal protection clause) to the larger lesbian and gay movement for social change. Initially, gay and lesbian bar owners resisted prohibitions against serving a homosexual clientele simply to protect their livelihood— the quintessentially American "right to make a buck."
However, as the harassment of gay and lesbian bars continued, bar owners shifted their strategy. Leaning on the Bill of Rights, lawyers representing the interests of bar owners, bartenders, and patrons argued that homosexuals should not be denied access to public accommodation. In this way, bar-based communities asserted their fundamental right to association and assembly. Because these arguments resonated with other minority-based civil rights campaigns, most notably the African American Civil Rights Movement, legal challenges to the harassment of gay and lesbian bars were successful in securing limited civil rights for queers.
In its fundamental differences from mainstream society, gay and lesbian culture was strong. It was the strength of difference and the historic projection of a unique sexual culture that enabled— and continues to enable—queer life in San Francisco to forcefully assert gay, lesbian, bisexual, and transgender civil rights.
---
Nan Alamilla Boyd is Professor of Women and Gender Studies at San Francisco State University. She is the author of Wide Open Town: A History of Queer San Francisco to 1965 and co-editor of Bodies of Evidence, the Practice of Queer Oral History (Oxford, 2012).