The list of contributors to Nonstop Metropolis: A New York City Atlas is as diverse and varied as the maps themselves. Through poignant and powerful essays and beautifully rendered maps, they pay homage to the city while also critiquing and challenging the way we see and think about New York—from its racial and economic inequality to its incubation of artists and the avant-garde. They are journalists, artists, geographers, poets, musicians, city planners, cartographers, and historians who celebrate the complexity, the unique vitality, the hidden layers, the overlooked stories, and both the ugly and beautiful aspects that shape New York.
This week we highlight some recommended books by just a few of the contributors to further your reading, and while not comprehensive or exhaustive, this is a fine place to begin as you learn about the people within the Nonstop Metropolis.
---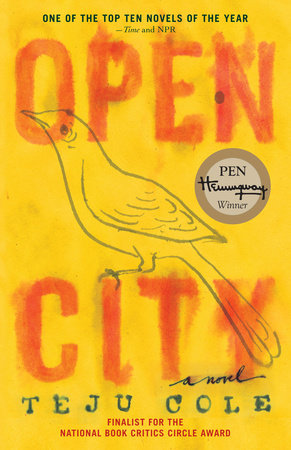 Teju Cole
Teju Cole's surreal and haunting 2012 novel, Open City (Random House, 2012) about identity and dislocation follows a young med student as he wanders the streets of Manhattan, "this strangest of islands." The book garnered numerous accolades, including the Pen/Hemingway Award for Debut Fiction and is a perfect accompaniment to Nonstop Metropolis.
You can find his writing in Nonstop Metropolis included in "Our City of Songs," an essay celebrating the music about New York's parks, corners, subway lines, and neighborhoods. His piece on Mos Def , Talib Kweli, and Common's "Respiration," which he says has "taught me something about how to love a city's complicated dreams," is not to be missed.
Emily Raboteau
Winner of the 2014 American Book Awards and a decade in the making, Emily Raboteau's Searching for Zion (Grove, 2014) takes readers around the world on an unexpected adventure of faith. Both a one woman's quest for a place to call "home" and an investigation into a people's search for the Promised Land, this landmark work of creative nonfiction is a trenchant inquiry into contemporary and historical ethnic displacement.
In Nonstop Metropolis, she explores New York's parks, their possibilities for friendships, and their divisions between "good zones" and bad in her essay, "Playgrounds I Have Known." At one point, after a reflective moment about the social castes in public parks, she witnesses her son playing, and poetically writes: "There is a child's-eye view of New York to which I have no key."
Paul La Farge
Paul La Farge had just moved from San Francisco to New York City when he wrote The Facts of Winter (McSweeney's, 2011). On his blog, he details the  eerie and strange familiarity of moving to Brooklyn and how it reminded him of growing up in Manhattan: "New York was strange and at the same time it was familiar, as if I'd fallen asleep and reconstructed the city of my childhood in a dream." These dreamy feelings worked their way into the book, which romps through a series of interrelated dreams had by people in and around Paris during the winter of 1881.
In the atlas, La Farge's essay, "Sailors and Scriveners" appears alongside the map, "Harpers and Harpooners," with both diving into Manhattan's publishing and whaling worlds through the eyes of Herman Melville. He begins: "Publishing is a lot like whaling: a risky business, which sends various desperate characters off on years-long errands from which, often as not, they return with little of value, or don't come back at all."
Sharifa Rhodes-Pitts
Sharifa Rhodes-Pitts's first book, Harlem Is Nowhere: A Journey to Mecca of Black America (Little Brown, 2011) is the culmination of the author's time spent at the New York Public Library, poring over photos and news clippings for countless hours. The result is a journey that blends the historical and the personal, the real and imaginary—searching the physical neighborhood of Harlem as well as the idea of Harlem.
Included in Nonstop Metropolis is Rhodes-Pitts's essay, "Freed But Not Free" where she explores the attachment to place, the spiritual and psychic claims to territories. She says: "The city, we're sometimes told, is composed of villages. Fruits of segregation or identification, shaped by the churn of developers' schemes and capital's march, some of the places now called "Villages" . . . evince the city's old will to push those it doesn't wish to see to the margins . . . "
We are incredibly lucky to have so many brilliant contributors featured in Nonstop Metropolis—the above is just a tiny sample of the scope and talent within the book. The full list of contributors—each of whom deserves your time—includes: Sheerly Avni, Gaiutra Bahadur, Marshall Berman, Joe Boyd, Will Butler, Garnette Cadogan, Thomas J. Campanella, Daniel Aldana Cohen, Teju Cole, Joel Dinerstein, Paul La Farge, Francisco Goldman, Margo Jefferson, Lucy R. Lippard, Barry Lopez, Valeria Luiselli, Suketu Mehta, Emily Raboteau, Molly Roy, Sharifa Rhodes-Pitts, Luc Sante, Heather Smith, Jonathan Tarleton, Astra Taylor, Alexandra T. Vazquez, Christina Zanfagna. And interviews with: Valerie Capers, Peter Coyote, Grandmaster Caz, Grand Wizzard Theodore, Melle Mel, RZA.
---
Nonstop Metropolis: A New York City Atlas is the final volume in our trilogy of atlases by Rebecca Solnit, Joshua Jelly-Schapiro, Rebecca Snedeker, and a host of notable contributors. Following the publication of the critically lauded Infinite City (San Francisco) and Unfathomable City (New Orleans), we bring you this homage—and challenge—to the way we know and see New York City, in an exquisitely designed and gorgeously illustrated atlas that excavates the many buried layers of all five boroughs of New York City and parts of New Jersey.